Interested in publishing?
Are you interested in gaining academic publishing experience? Would you like to turn your Ba/Ma thesis into an article or publish the results of research you are currently performing in your studies of Ancient studies and Archaeology? Then you might want to contribute to Kleos – the  Amsterdam Bulletin for Ancient Studies and Archaeology!
We offer contributors extensive editorial support. This consist not only of constructive feedback by an experienced interdisciplinary editorial team, but also by expert peer-reviewers, who are all vested academic scholars in their field of study.
Kleos furthermore aspires to provide contributors with a platform for extending their academic network and the possibility to increase their academic visibility. As such, contributors will be asked to provide information on themselves and their research, which will be used for posting on the digital platforms of Kleos.
Kleos publishes several types of papers:
If you  wish to submit a paper or review please send a short abstract (no longer than 300 words) detailing your proposal to bulletin.kleos@gmail.com. Please include the following information in your submission mail:
Download our contributor flyer here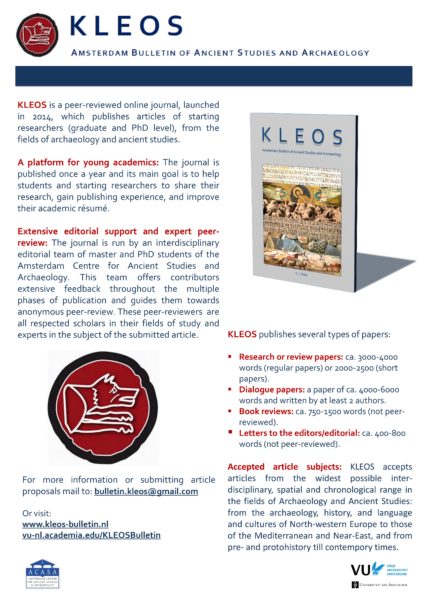 Guidelines for contributors
If you would like to publish in Kleos, please pay attention to the guidelines set for contributors. All the guidelines are specified in the Kleos Author Guide which you can download below. If you have any questions about the guidelines you can email the editorial team at bulletin.kleos@gmail.com.
You can find all the necessary downloadables for contributors, including  the Kleos Editorial Policy and the Copyright Permission Form, here.